The San Angelo YMCA has offered youth tackle football to the San Angelo community for over 50 years and is proud to be one of the largest leagues in the state of Texas. All students 3rd - 6th grade are encouraged to register and be a part of something great. Players will learn to fundamentals and skills associated with the game of football while working with a team towards a common goal.
The San Angelo YMCA takes the safety of its participants seriously. All employees and volunteer coaches must undergo Heads Up training through USA Football. For more information visit https://usafootball.com/programs/heads-up-football/
Central and South Division Youth Tackle Football Registration:
The YMCA Youth Tackle Football program is for 3rd - 6th grade students. We are looking to help grow tackle football in the San Angelo area. The Y instructs under the USA Football system and adhere to all safety regulations and instruction.
Fees: More information coming soon!
Additional Options: $22.00 Helmet / $18.00 Shoulder Pads / $20.00 Insurance
Registration Dates: June 1 - August 10 DATES EXTENDED!!
Late Registration: August 11 - August 17
Coaches Meeting: August 19
Time: TBA (To receive notification regarding meeting you must fill out a volunteer form)
Season: September 15 - November 11
A $15.00 fee will apply to all late registrations.
NEW!! Youth 7 on 7 Touch Football:
The YMCA Youth Sports departments is offering a new skills league for 2nd - 8th grade students. Games will be played on Saturdays with 7 guaranteed games. League emphasis on fundamental skills.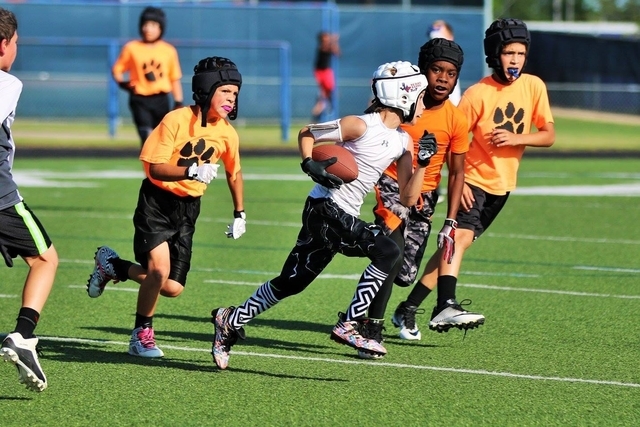 Fees: $50 Y-Members / $60 Non-Members
Registration Dates: June 1 - August 24
Late Registration: August 24 - August 31
Season: September 22 - November 11
Printable Registration Form or Register Online
Football "OTA's"
Prepare for the 2018 - 2019 season with the Y's session of "organized team activity". Instructors will focus on USA Football techniques allowing participants to improve on all things football including conditioning, tackling and more.
Fees: $75 Y-Members / $90 Non-Members
Equipment will be issued at no extra charge.
Registration Dates: May 15 - July 31
Camp Information: July 30 - August 10
Monday - Friday, 9:00 am - 10:30 am
Glenn Middle School